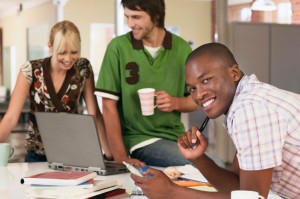 Carolina Training Associates (CTA) prides itself on being a company made up of people you will call family. With over 25 years of experience, CTA has seen technology education take on many different forms and has grown and changed to meet the ever-changing technological needs of the institutions we service.
CTA was started by a gentleman named Bill Johnstone. In 1985, he and his trusty assistant Geneva Edwards ran the company out of Sanford, NC. As the business expanded, Bill needed help covering the SC territory. He turned to a young enthusiastic Auburn graduate named Marshall Millican. The two men worked closely together for 11 years developing business relationships throughout the Carolinas. In 1998, Marshall and his wife Kim became the proud owners and later moved the company to Charlotte.
After Bill Johnstone retired Marshall and Kim were able to convince Bill Burgess, a former supplier rep for Heathkit to join the sales team in 2004. His field experience brings a unique perspective to the CTA family.
CTA is not built on sales alone. Service to customers is the company's top priority. Helping to make that a reality, the company counts on Jenell Fischer in the office to address customers' needs. Mike Millican completes installations and supplies technological support. Recently, Pam Adams has joined the team as the inside sales and software person.
Carolina Training Associates is proud of the mark it has made in the field of technology education. We look forward to many more years of serving the educational needs of the Carolinas.