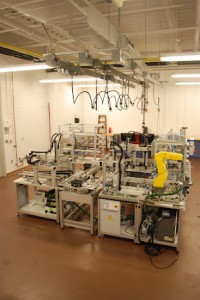 The Mechatronics Lab at GTCC – Wendover Campus is an advanced manufacturing lab and AFB (Advanced Food and Beverage) automation system that supports training and qualification of prospective workers in the consumer personal care product and pharmaceutical industry.
The training system manufactures components with a Flexible Manufacturing System (FMS) that uses Computer Numerical Controlled (CNC) lathe and/or mill integrated with a robot that controls and supports the manufacturing process, as well as the complete order entry system to control the ordering and distribution of the product.
To track orders, the system uses Radio Frequency Identification (RFID). This system allows uniquely identifying and tracking of each container that contains product.